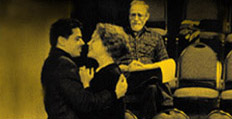 Terry's book,
Acting: Advanced Techniques
now in bookstores!
Established in 1969, the T. Schreiber Studio is recognized as one of the foremost acting schools and professional theatre labs in New York City. For over 35 years its dedicated and prestigious faculty, led by Terry Schreiber, have given actors the tools to go on to successful careers in theatre, film, and television.
Featured in New York's 50 Best Places to Keep Your Spirit Alive.
Consider joining us as a Season Subscriber or Club Member.
"It takes courage to be a good actor. We provide a safety net to build that courage where you take chances and risks and where you will always have a support system" — Terry Schreiber
replica breitling
---
the school | the theatre| about us| what's new| contactI home| email
T. Schreiber Studio
151 West 26th Street, 7th Floor, New York, NY 10001
office: 212-741-0209 / fax: 212-741-0948